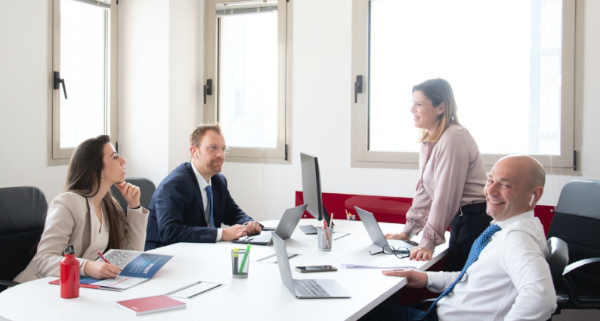 PA ADVICE, OTTIMO POSTO PER LAVORARE
Un riconoscimento importante per chiunque, prestigioso per un'azienda del settore della consulenza in cui ritmi, sfide e difficoltà sono solitamente più elevati e ostici che altrove. Anche per questo Pa Advice è orgogliosa di annunciare di essere riconosciuta "Great Place to Work".
In un comparto con elevato turnover come il nostro, siamo fieri di poter contare su una squadra giovane (età media di 31 anni), dinamica, flessibile, ma anche altamente competente. Persone che decidono di rimanere con noi, che ci scelgono ogni giorno, per proseguire il quotidiano lavoro a fianco della Pubblica Amministrazione per rendere i suoi servizi più efficienti e moderni.
Secondo gli indicatori di "Great Place to Work", il 97% di chi lavora con noi è orgoglioso di farlo. Il 98% crede che i nostri clienti possono valutare positivamente i nostri servizi. Sempre lo stesso numero di persone ci raccomanderebbe come ambiente di lavoro eccellente e "solo" il 95% prova un senso di orgoglio quando vede cosa l'azienda, tramite il suo team, è in grado di realizzare. Si tratta di percentuali altissime non solo nella media delle aziende italiane, ma anche tra quelle – tutte di eccellenza – che hanno ricevuto questa "certificazione".
Grazie a tutte le nostre persone di talento che riconoscono il valore e la ricchezza di ogni giorno di lavoro con noi. Tutti insieme siamo il nostro successo. Noi, al massimo delle nostre possibilità, vogliamo favorire la loro crescita professionale e la loro serenità personale. Per questo cerchiamo di rendere moderno e razionale l'ambiente di lavoro: accorciamo l'orario settimanale a parità di stipendio, sfruttiamo le possibilità offerte dal lavoro a distanza, valorizziamo le competenze. In PA Advice abbiamo a cuore tutto ciò, perché dal nostro impegno dipende la qualità della vita delle nostre persone. Anche per questo siamo un #GreatPlaceToWork.
https://www.paa.it/wp-content/uploads/2022/03/ottimoPostoPerLavorare.jpg
380
600
Filippo Civiletti
https://www.paa.it/wp-content/uploads/2022/03/Risorsa-3-300x76.png
Filippo Civiletti
2022-03-30 22:38:11
2022-03-30 22:38:12
PA ADVICE, OTTIMO POSTO PER LAVORARE